15.09.2018 Norsk Collie Klubb  Dysjaland Gard
Dommer Beata Petkevica   juniorklasse  excellent, 3konk
11 months, corr. bite, corr bones, corr length of body, prefer more length of head, corr ears,dark eyes, round muzzle, enough underjaw, forechest in development, a little bit loose in elbows at the moment, well arched neck, good spring of ribs, prefer longer tail, a little bit sloping crop, attractive topline, excellent temp, rich coat, very well presented, a little narrow in the back, should be more paralell i front with development of chest.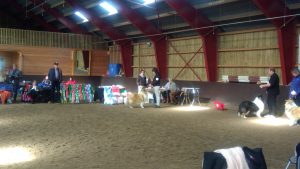 02.09.2018 Norsk Shetland Sheepdog Klubb  Svelvik
Dommer Petter Fodstad  juniorklasse  excellent, 1 konk og BIM Junior
11mnd, trenger mye tid til å modnes, bra uttrykk, ikke helt paralell i hode, for markert nakke knøl, bra hals/topplinje,for tiden noe grunn i brystkassen med knytede albuer, utmerket lengde i kroppen, velvinklet bakben,bra pels med velvist bevegelser, bra bak noe kryssende i fronten.
01.09.2018  Norsk Collie Klubb Svelvik
Dommer Marija Kavcic  Juniorklasse  excellent, 3konk
11month. good size, head broader in scull, good profile, not very strong in underjaw, deeper set eyes, well carried ears, corr.ribb cage, steap croup, less angulation back legg, in movement not yet balance, frontleggs to much forward, back closer, less drive. excellent coat, friendly temp.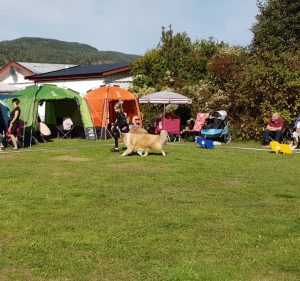 27.05.2018 Sør-Rogaland Brukshund Klubb
Dommer Liz-Beth Liljeqvist   Valp 6-9 mnd  1konk,HP, beste hannhund og BIM
Vakkert hode, mye bra detaljer, utmerket benstamme og tasser, normale vinkler. Bra kropp for alder, utmerket pels, beveger seg bra, lite trang framme.
20.05.2018  Norsk Collie Klubb avd. Hedmark Stranda Camping
Dommer Nick Smith 6-9mnd  1 konk, HP og 2 beste hannvalp
Nice size for age. Head of ok length. Good underjaw and tight lipline. Good expression. A fraction deep in backscull. Well set and used ears. Good neck and ang.front.  Good depth in rib. good rear ang. Tail just ok. Movement good but need to tighten in front.
19.05.2018 Norsk Collie Klubb Stranda Camping
Dommer Guy Devriendt  6-9 mnd  1 konk
8 month light sable masculin dog, good prop. head,neck and body. Well ang. in front and rear. wide ear set. Regulare complete scissiorbite.
Good tailset, but tail short.
Moves with happytail. Good bone.
Would like moving with more energi.