15.09.2018  Norsk Collie Klubb Dysjaland Gard
Dommer Beata Petkevica  Juniorklasse   Excellent, ck, 1 konk, BIR Junior og BIS 3 junior
11months very feminine, correct bite,elegant female with medium bones, correct length of body. Feminin head with flatscull, would like more length of head. enough underjaw, nice eyes, correct stop, acceptable ear carriage. Long neck, a little high placed, correct shoulders,nice profile movements, could have more drive from back, rich coat with nice texture, Beautiful tail!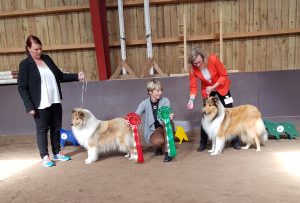 02.09.2018 Norsk Shetland Sheepdog Klubb Svelvik
Dommer Petter Fodstad   Juniorklasse   Excellent, ck, 1 konk, beste tispe, CERT, BIM, BIR Junior og BIS 3 Junior !!
10mnd. meget feminin, bra hode, bra bredde på underkjeve,tilstrekkelig store øyne, bra ører, velvinklet front, bra hals, god bryst dybde, korrekt prop i kroppen, velvinklet bakben, utmerket bevegelser fra siden, noe ustabil i front. Velvist. Utmerket pels.
01.09.2018 Norsk Collie Klubb Svelvik
Dommer Marija Kavcic   Juniorklasse   Excellent, ck, nr 2 i konk, 3 beste tispe og CERT!
10 month, nice head, correct eyes and ears. Good neck, shorter ribbcase, slouthe?
correct front legs. not power hind, well balanced side movements, excellent tail carrige.
super coat, friendly temperment.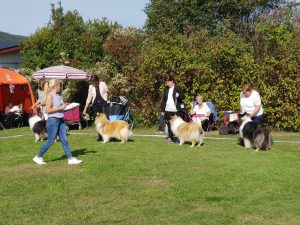 27.05.2018 Sør-Rogaland Brukshundklubb  Orre Rogaland.
Dommer Liz-Beth Liljeqvist   valp 6-9 mnd  nr 1, HP og Bir valp
Tiltalende helhet, feminin, mørke øyne, noe små. bra bitt og fine ører.
Utmerket benstamme og vinkler. Bra kroppsstørrelse og rygg.
Utmerket pels. Rører seg vell.
20.05.2018 Norsk Collie Klubb avd. Hedmark Stranda Camping
Dommer Nick Smith     Valp 6-9 mnd   nr 1 med HP og 2 beste tispe valp
Nice shape over all, but i prefer a longer head with less stop. Good rounded muzzle, but need more length in backscull.  Nice length of neck. Good front angulations. Nice turn of stifle and short hooks. presentation very good. Moved well.
19.05.2018 Norsk Collie Klubb Stranda Camping
Dommer Guy Devrient      valp 6-9 mnd  nr 1 med HP og 2 beste tispe valp
7 month femenin bitch, with good proporsion, head,neck and body. Deep stop.
I would like a little bit more filled up in muzzle.
Good angulation in front and back. putting backfeet out wide. very good coat.
Moves excellent!