ÅPEN KLASSE
11/4- 15 NCK Avd Vestlandet, Dommer Uwe Nölke
Excellent og 4 Konk
5,5 year old sable. Very good foreface. Dark eyes. Flat scull. Very well set and tipped ears. A little straight in shoulder. Good top line. Short hocks. She crosses in front movements. Very good condition. Coat of nice colour and texture. Very well presented.
Fine jenta mi 😀 Tusen takk for bilde Hilde og Cato 🙂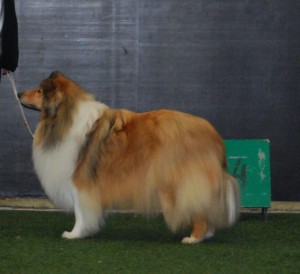 31/5- 2014 NKK Drammen, Dommer Elena Ruskovaara
Excellent
Very feminin , well boned, very typie. a bit strong skull, but nice expression and eyes, would prefer longer neck. not in her best coat today. nice typ. movement. well presented.
En litt vel naken Bonnie 😉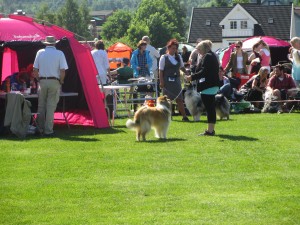 14/9- 2013 NKK Rogaland, Dommer Ulf Bråten
VG 😉 alle må få en blå en gang!
4år gammel fem. tispe av god størrelse. godt uttrykk, noe bredt ansatt ører, tilstrekkelig hals og forbryst, aning bløt i ryggen, korrekt lend, tilstrekkelig vinklet bak. ok pels og farge. kunne beveget seg med mer driv fra siden, ok bak fra, aning løs i front. godt temperament.
8/6-2013 NCK Sørlandet, Dommer Michaela Rukopf
Exellent, 2konk,ck, 2btk og res.cert 😀
ca 4 years, lovely type, corr.bite, nice clean head, fem. expression, very good ears and eyes, exellent topline, very good front and chest, very good ang. in front, good behind, correct movement, calm temp. showing perfectly, well handled 🙂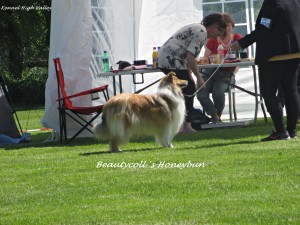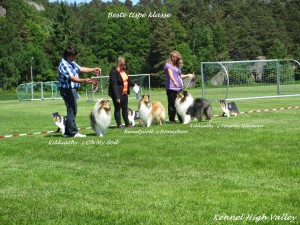 26/5-2013 NCK Hedmark, Morokulien, Dommer Didier Dupont
Good outline, good conformation of head, good expression, good ears and carriage, good neck, good bone and substance, good body length, good length of tail, movement correct, good coat.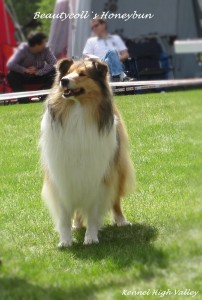 25/5-2013 NCK hovedutstillingen Morokulien, Dommer Michel Mocque
Exellent og 2konk.
Good size, good head, well flat skull, good foreface + expression, good carriage of ears, good prop. of body, good bone, good movement front and rear.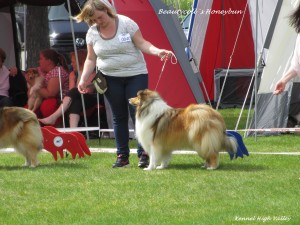 7/4-2013 NKK Bergen,  Dommer Svante Frisk
Exellent
Bra proposjoner, paralelle plan. bra markert hode, kunne hatt noe høyere øreansetning. fine øyne. saksebitt, bra halstilsetting, litt plan over lenden. tilstrekkelig vinklet bak. noe åpen vinkel fremme. velmarkert for bryst. litt utat tået bak. aning bred framme. bra steglengde, kunne hatt litt mer driv. pelsen kunne vært litt mer hardere. Trivelig temperament 🙂
6/4-2013 NCK Vestlandet, Bergen,  Dommer Peter Muzslai
Exellent, 3konk og ck
3,5 years old sable bitch, good shape of head, good almond eyes but wish a somewhat better placement. Well placed ears, good top line, good length of tail, very good bone structure, very well presented! Movements: rear good, albows out of place in front.
UNGHUND KLASSE
11/9-2011 NKK Rogaland,  Dommer Mette E M Tufte
Exellent, 1konk 🙂
Kraftig tispe av meget god type, velskåret hode, typisk uttrykk. mørke øyne,korr. bitt. ok ører. tilstrekkelig tilbakelagt skulder. god kr.lengde, velv.bak. beveger seg med god driv. noe vid i front. meget god pelsstruktur og mengde.
10/9-2011 NCK Rogaland, Dommer Peggy Bailey
Exellent, 2konk og ck 🙂
Sable/white with a beautiful head, good ear caring, good chest and neck, good outline, covered the ground well.